FUJIFILM Business Innovation Supports Versatile, Remote Workstyles with Digital Colour Multifunction Printer Apeos C Series

Enhanced Security for a More Robust Office Environment
Hong Kong, May 21, 2021 — FUJIFILM Business Innovation Hong Kong launches Apeos C digital colour multifunction printers that support versatile, remote workstyles with enhanced security capabilities and tools that support office operation efficiency. Sales of the two models, 11 products will sequentially begin on May 21.
The new multifunction printer series has expanded security functions in response to a diversity of security threats that are constantly evolving. With the existing security functions that meet the U.S. security standard NIST SP800-171 Note 1, the Apeos C series has bolstered the security measures for network connections preventing information leaks from data stored in the device. Specifically, the multifunction printers (1) support a new protocol WPA3 that enhances the security of wireless LANs, (2) are equipped with the latest internationally-standardised security chip TPM 2.0Note 2 with enhanced encryption, and (3) have improved program diagnostic function at startup. The added security capabilities in both hardware and software provide a more robust office security environment.
To support remote workstyles, the Apeos C series allows seamless integration of supporting office tools to create a secure workflow that promotes connectivity and operational efficiency regardless of time and location.
With Scan Delivery Note 3, the application can read characters from a scanned document and automatically saves it in a predetermined storage location. Users can preset names of folders and files, based on simple criteria settings such as recipient name, document creation date, control number or due date, while scanning the document.
Apeos C8180
[Other Key Features of Apeos C 6580 / 7580 / 8180]
The low-wear photoreceptor drum, large-capacity toner Note 4, and large-capacity paper feed tray (up to 7,360 sheets Note 5) reduce the frequency of replacing consumables and meet the need for continuous, large-volume output while maintaining image quality.
High productivity at a print speed of 81 pages per minute Note 6.
The world's first Note7 2,400 x 2,400 dpi LED printhead enables fine resolution prints and the Super EA-eco Toner deliver crisp image quality.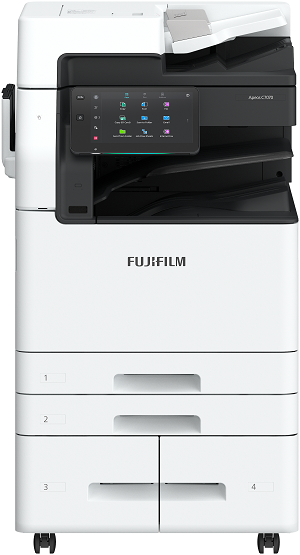 Apeos C3570
[Other Key Features of Apeos C 3070 / C 3570 / C 4570 / C 5570 / C 6570 /C 7070]
Scans at a speed of 270 pages per minute Note 8 making scanning operations efficient.

The duplex automatic document feeder B2-PC Note 9 scans to a minimum size of 49 x 85 mm.

The notification light turns on to prevent documents from being left behind on the printer when scanning or printing.

Apeos C3070 / C3570 features a compact body with a 30 mmNote10 reduction in machine width. The size of Finisher C4 / Finisher C4 with Booklet Maker has also been reduced allowing it to fit in limited office space while improving the efficiency of finishing functions such as stapling and saddle stitching.
Note 1: Security standards set forth by the U.S. National Institute of Standards and Technology
Note 2: A security chip that manages the key to the encrypted data in the multifunction printer.
Note 3: A paid application that stores scanned documents in a designated storage location with file names according to predetermined rules.
Note 4: Approx. 75,200 pages (37,600 pages x 2 toners) for K toners and approx. 39,700 pages for each CMY toner
Note 5: When using FUJIFILM Business Innovation's 80gsm paper, when using optional high capacity input feeder C3-DS and multi sheet inserter.
Note 6: When using A4 landscape, non-coated paper, 52 to 128 g/m2 for colour printing and 52 to 176 g/m2 for monochrome printing.
Note 7: Using dry electrophotography. As of March 2021. Based on research by FUJIFILM Business Innovation.
Note 8: Apeos C 6570 / C 7070 models equipped with duplex automatic document feeder C2-PC
Note 9: Apeos C3070 / C 3570 / 4570 / C 5570 models equipped with duplex automatic document feeder B2-PC
Note 10: Size is measured with standard Side Tray.