Welcome to the world of FUJIFILM Business Innovation Hong Kong. As our valued customers, you will have access to various resources including set-up guidance, service support and best practices to make your equipment achieve optimal performance, and explore solutions to increase productivity and leverage digital transformation to spark innovation and growth.
Let's get started!
ServicePRO
With ServicePRO, we offer a comprehensive suite of professional after-sales services to help you embark on the journey faster and easier and have your problems solved even before you notice.
Online Training
Online Training Class by Professional Customer Trainer
Our comprehensive customer training covers not only equipment operation, but also applications tailored to your workflows, enabling you to make the most out of what you have with FUJIFILM Business Innovation Hong Kong solutions.
Whether you are a user trying to learn more about the multifunction printer, or an administrator looking for the best device management option, you've come to the right place.
e-Billing
Our green solutions help companies reduce carbon footprint, increase productivity and save cost and time. With e-Billing services, you can access your account anytime to view and manage real-time cost portfolio in a paperless environment.
Benefits:
Easy to sign up and start using

e-invoices are accessible anytime, anywhere

e-invoices can be retrieved for up to 12 months

Customers will receive notifications when new e-invoices are issued
Smart Workstyle Tips
The COVID-19 pandemic has changed the way we work and live. From virtual meetings to remote or hybrid working and schooling, technologies play an indispensable part of smart living in the post-pandemic era. Check out these Smart Workstyle tips to keep your office connected and competitive.
As we see a transition from traditional office environment towards remote working, it is important for SMBs to harness essential resources and hone their skills for growth and opportunities in future.



DocuSign

An e-signature solution to expedite agreement process

Create, track and sign contracts in shorter turnaround time
Significantly reduce error rate
Satisfy legal requirements

Kintone

Create your app from scratch with over 100 templates

sorted

by departments and industries

R

equire no coding skills with e

asy drag-and-drop interface

Application examples:

HR & Workforce Management

Business Operations

Customer Support




Cryptobox

A system for managing archives of document images

View and share documents via mobile app

Enable real-time encryption and access time limits

Facilitate auto document filing and indexing




Dokmee Capture

A system for managing archives of document images

View and share documents via mobile app

Enable real-time encryption and access time limits

Facilitate auto document filing and indexing
In a world of constant change, the only way for enterprises to stay agile and resilient is through transformation by building a Smart Workstyle. Discover our solutions that empower you to optimize processes, share knowledge and data, and build trusted connections to accelerate business success.



Optimizing Processes Even Further with Hyperautomation

By moving beyond office automation to hyperautomation, enterprises of all sizes can enhance business agility, efficiency and decision making and enable continuous improvement.

Recommended Solutions:




Delivering a Total Experience with Unified Communications

A unified communications strategy can increase revenue, decrease costs, increase brand value, and improve business continuity. Let's look at how our total experience can help businesses grow faster.

Recommended Solutions:




Building Trusted Connections with Cybersecurity Mesh

A reliable Cybersecurity Mesh Architecture (CSMA) can simplify I.T. management and improve collaboration. Our artificial intelligence (A.I.) -powered security framework goes beyond fragmented security, establishing trusted digital connections for the new workstyle.

Recommended Solutions: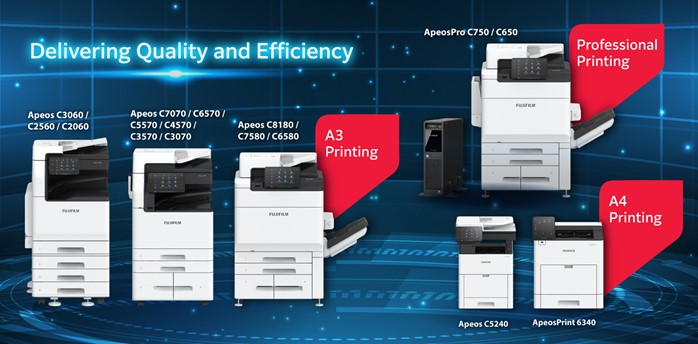 Features:
High-quality output with speed: Delivers high-quality output for both color and monochrome printing, meeting high-volume printout needs in office.

Quick and easy operation: Easy-to-use interface on color touch panel with customization settings to add shortcut keys on the printer's home page.

Wireless printing: Mobile devices such as smartphones/ tablets can be connected for quick and easy printing of documents

High-level protection: With safe and secure system settings, we can protect your business against malicious intent of hacking and tampering with devices.

Our paper ordering platform is now open for customers to place and check paper orders, anytime and anywhere. Contact us to create your account now.
Features:
Pre-set regular orders and delivery time
Review your order records anytime
24-hour order placement