Overview
Copy/Print: 5570 55 ppm*1, 4570 45 ppm*1
Scan: Colour/Monochrome 160ppm*2
Fax: Super G3 FAX*3
Printing Resolution: 1200 x 2400 dpi
Cloud enabled
Mobile enabled
Scan business cards
Security
LED reminder to collect printed document / originals
Multi-feed detection
*1: A4 LEF.
*2: When both sides of a sheet are scanned through a single pass using the Duplex Automatic Document Feeder.
*3: Optional.
Features
Information is an important asset which should be protected at all cost
Protect from unauthorised user
Multiple options of setting user authorisation allow administrator to select a right combination as per given environment.
Local Authentication
Authentication by Remote Server*
IC Card Authentication*
User-specific feature access
Private Charge Print
Additional layer of unwanted access can be created for specific users. (e.g. guests).
Protects Data
Protects against any malicious intent of hacking, tampering with device / system settings.
Encryption of stored data
Uses TPM* 2.0 chip for encryption key management
Deletes settings and document information all at once
*

Trusted Platform Module
Protects the information by means of strong encryption while transferring it between devices, servers etc.
Encryption of communication paths by SSL/TLS or IPsec
Encryption when transferring via SMBv3 and SFTP
Scan file encryption/signature
Email encryption and signature by S/MIME
TLS version limit
Elliptic curve cryptography
WPA3
Protect from unauthorised access
Protects device settings at multiple levels by clearly demarking change restrictions for different target audience - End users, IT administrators and Service Engineers.
Service representative operation restriction
Account lock to prevent unauthorised access
Information for changing the default password
Warnings displayed when using global IP address
Prevents unauthorised program from installing without notice. Robust IT audits are supported with device data logs for easy tracking.
Software signature verification
Remote update restrictions
IP address filtering
Tampering detection at startup and automatic restoration when tampering is detected
Prevention of tampering during operation
Audit log
Audit log system transfer
Prevents operation errors
Prevents information leakage due to inadvertent mistakes by administrators and users.
Scan documents to be delivered to fixed destination
Re-enter fax recipient
Annotations
Hidden text printing*
Digital code embedding and tracking function*
Minimise wait time for greater productivity
First copy output time in 3.6*1 seconds
Machine warm time and recovery time in less than 30 seconds*2 and 11 seconds respectively
Smart WelcomEyes detects a user and automatically "wakes" the machine up from sleep mode
*1:

A4 LEF.

*2:

Embedded Plug-ins / Custom Services: When enabled.
Reduce unintentional information security risk with sensory alerts
Reminds user of uncollected original or printed document on the trays
Prevents uncollected documents left on the Center Tray or Feeder
Center Tray light further notifies when a fax is received on the Side Tray
Sound notification for originals left on the document glass

Effortless operations with retractable tray mechanism
One soft push for closing
Retracts softly and gently
Drawing out is effortless
Quick information extraction for high volume workflows
Up to 160 ppm* can be read at high speed in Scan
One pass DADF will not damage the original document
Equipped with multifeed detection
Up to 130 sheets can be loaded
* 1 pass, 2 sided scanning, 200 dpi to folder.
Quick operations with direct DADF scanning for custom size documents
Supports minimum size of 49 mm(W) x 85 mm(L)*
Instantly scan without manual entry of each original size
Automatically converts custom-size originals to standard size
Multiple sheets of original can loaded and scanned together
Business card size scanning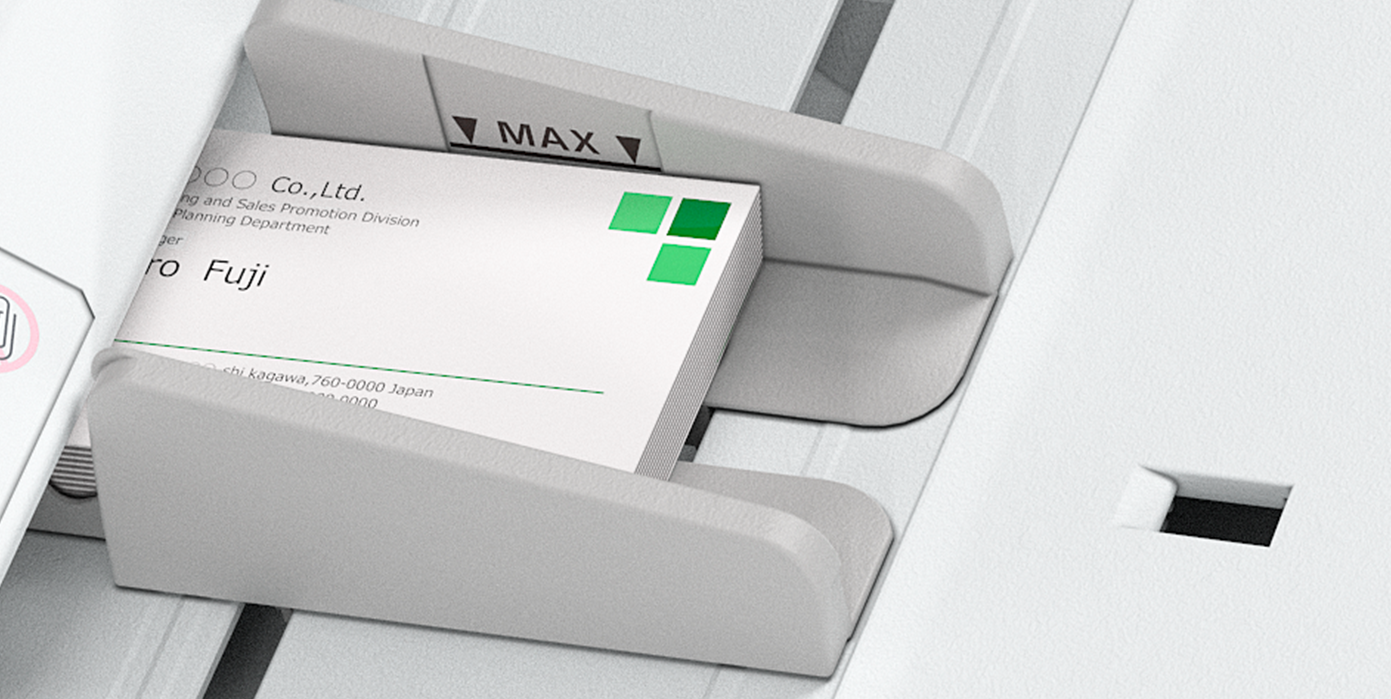 Automatically scans small originals as-is to a standard size

*

Applicable for paper weight 38-209 gsm.
Various finishing options are available according to your needs
[A variety of finishing features]
Staple

Stapling multiple pages together

Punch

Hole punching for binders

Saddle Staple

Convenient for making catalogs and booklets

Z-fold Half Sheet

Z-folds A3 documents into A4 size

Tri-fold

Convenient for inserting direct mail, etc.
[Finishing options]

1. Finisher-A2

2. Finisher-B4 with Booklet Maker Unit

Staple
Punch*2
Saddle Staple*4
Single Fold*4

3. Finisher-C4

4. Finisher-C4 with Booklet Maker+Folder unit CD3

Staple
Punch*2
Saddle Staple
Single Fold
Tri-fold*5
Z Fold Half Sheet*5
*2: Finisher with Punch Unit is available.
*3: Optional.
*4: Booklet Maker is required. When specifying Saddle Staple or Single Fold with Finisher B4, paper is not folded but creased.
*5: Folder Unit is required.
*6: 80 gsm or less.
Various options are available according to your needs
All models come with standard 2 Tray + Tandem Tray module
1. With Tandem Tray Module

Paper capacity of up to 3200 sheets

2. With Side Tray
Paper capacity of up to 3200 sheets with separate output trays
[High Capacity Feeder]
Maximum paper capacity of 6140 sheets*
*

Standard + Tandem Tray Module + High Capacity Feeder B2.
1. High Capacity Feeder B1 can feed 2000 sheets

2. High Capacity Feeder B2 can feed 2940 sheets
Simple layout with easy navigation
Black and gray tone UI gives better contrast for easy recognition.
Icons are evenly spread for easy recognition
Consistent operation steps of each function for easy recall
Home screen personalisation for ease of access to commonly used functions
Pin regular settings for registering frequent or repeated jobs
Clear visible light notifications for completed or error jobs
Subtle sound notification for alert and attention
Smartphone becomes a "portable operation panel"
Seamless connectivity with mobile devices for Copy, Fax, Print, Scan*2 jobs using the Print Utility*1 application.
Mobile device can be used as an alternative UI for operations control to minimise common touch points
Frequent settings can be saved as "Favourites"
Directly send fax or email with the addresses stored in the smartphone
Minimise printer touch points for hygiene reasons
Quickly establish direct Wi-Fi connection by scanning the QR code on the user panel
Note:

Note: Connect to machine via wireless environment or Wi-Fi direct connection.

*1:

It can be downloaded free of charge from Google PlayTM or App Store.

*2:

E-mail, Scan to Folder.
Flexibility in office layout
Supports wireless LAN environment*1.
Supports free addressing in the office with Wi-Fi support
Up to five Wi-Fi Direct multifunction printers can be connected at the same time
Supports direct mobile printing*2
Print Utility, AirPrint, and Mopria® Print Service are supported
*1:

Optional.

*2:

When connecting to Wi-Fi Direct.
Print out from any multifunction printer within the office
With Server-less On-Demand Print*, you have the flexibility to print and collect the print outs from any of the connected multifunction printers.
Improves productivity by printing from another available multifunction printer when the current device is in use
Up to 5 units can be linked
Specific job settings can be revised at the device level to save time (1 sided to 2 sided, all monochrome)
* Optional.
Simple device management with Server-less Authentication
Server-less Authentication* enables user information to be synchronised among multifunction printers in the same group and allows administrators to reduce their workloads.
Simply tap your card to link the user ID with the multifunction printer
The ID information is automatically shared with the other multifunction printers in the same network
Authentication can be performed with any devices in the office
* Optional.
Simple scanning to yourself
With ScanAuto, you can easily send scanned data with a touch of a button.
Automatically adjusts the orientation or 1-sided/2-sided of the original document
Automatically sets user mail address as the destination by using user authentication function
Multiple destination scanning
Multiple destination scan enables concurrent multi destinations, scan to PC folders, e-mail, and URL.
Business continuity planning can be established by saving a copy of each scan on PC or Server (URL)
Digitisation of paper documents for effortless document management
With Scan Delivery*, you can automatically process and store scanned images by simply pressing the preset button for each workflow or document type.
Automate to set file format, file name, OCR*, etc.
Automatically stores scanned and processed documents in the appropriate destination
Specify particular words or characters in a document as the folder or file name
0̸ and other frequently mis-recognised characters can be read correctly
QR codes and bar codes application
Where QR code or bar code is available on the headsheet or content body of the original document for scanning, Scan Delivery will recognise and process the information accordingly.
Do not miss any faxes when you are working remotely
Paperless fax function automatically stores received faxes into folders which can be transferred to a PC or sent as emails.
Received faxes can be forwarded to your mobile device by email
Received faxes can be transferred to Working Folder*1
It can be sorted by fax number, date received, and person in charge*2
Incoming fax processing can be switched by time, day of the week and period*2
For example, you can switch from paper-based output to an electronic transfer in a single operation*2
*1: Cloud services provided by FUJIFILM Business Innovation. A separate contract is required.
*2: Optional.
Centralised cloud integration
Cloud Service Hub* allows single sign-on to multiple cloud storage services.
Specific storage location can be assigned for scanned documents directly from the multifunction printer
Searching documents from multiple cloud services is supported
Full-text search on scanned documents can be performed with OCR
*

Cloud services provided by FUJIFILM Business Innovation. A separate contract is required.
Towards a sustainable society
FUJIFILM Group strive for developing a sustainable society by means of environment friendly products with less power consumption and CO2 emissions.
Reducing energy consumption
Less energy & noise with high resolution printing on LED printhead
Low temperature fusing & high quality print with Super EA-Eco toner
Smart Energy Save distributes power only to the features requested by users
Smaller carbon footprint
Reduce CO2 emissions by adoption of environmentally friendly inedible woody biomass plastic for selected parts
Deploy recycling system that collects and recycles used devices and consumables
Reducing wastage
Reduce unnecessary paper consumption by using functions like paperless fax, multi-up printing, scan workflow and authentication process to restrict wasteful printing
Childcare Centers/Schools
Hospitality (Food and Service) Industry
Hospitals
Inclusive society
Switch swiftly between multiple languages* on the UI panel for a diverse workforce in your office
*

Japanese, English, Chinese (Simplified/Traditional), Korean, Thai, Vietnamese, and Indonesian.
Easy solutions to resolve problems
From supplies replacement to unexpected device failures, most problems can be resolved without waiting for the service representatives or sales representatives.
1. Resolve problem using the "Help" function on the device
Self Help information is available on the control panel
Self Help information can be accessed via the mobile device by scanning the QR code displayed on the control panel
2. "Remote Assistance" with the help of operators
Connects directly to the Support Centre
An operator will remotely access the multifunction printer to resolve the problem by guiding through the steps on the shared control panel
Keeping a close eye on your multifunction printer on a daily basis
Monitoring the multifunction printer status to minimise operation down time.
Check billing meter
Automatically delivers consumables when cartridges level is low
Detect machine errors for early invention to rectify the problem
Note:

You need to apply for using the EP service. (free of charge).
Brochure
Apeos 5570 4570 Brochure-EN
File Size:

2.19 MB

Document Type:

Portable Document Format
Download Resource
How To Buy
Apeos 5570 / 4570
We make it easy for you to purchase products, supplies and services from us. Our extensive network of representatives can help you choose the right solutions for your business needs.