Solution 3:
DOCUSIGN/ADOBE SIGN CONNECTOR APPS
While more companies are switching to faster digital workflows, agreement processes can still take a lot of time, especially when both internal and external approvals are needed, and different parties use different systems.

Addressing this problem, DocuWorks presents a comprehensive end-to-end digital approval solution that integrates popular electronic signature applications such as DocuSign and Adobe Sign into your existing workflow.

This enables you to create and process files in DocuWorks without switching to other external applications, and receive real-time notifications and status updates as your document progresses from state to state and approaches completion.
36% saved
on average for eliminating the physical approval steps of each agreement or contract (Source: DocuSign)

What are the Solution benefits?
Documents are easily completed and signed error-free in minutes, radically speeding up turnaround times, and generating results and revenue sooner.
Manage your resources better by reducing time spent preparing, sending, tracking, reconciling, and handling documents—all while decreasing your paper, ink, printing, fax, and mail costs.
Accurate & Secure Transactions
Collect data electronically, while automatically updating information in your existing systems—eliminating the need to rekey data—so everything is most accurate and visible with complete audit trails.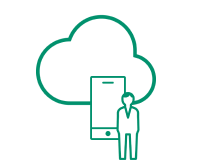 Provide your clients with a more satisfying experience matched with the convenience of accessing documents from anywhere, at anytime and on any device.