Solution 4:
ORDERING PROCESS SOLUTION
Transform your operations into more optimal, virtual workflows with DocuWorks' Order Process Management Solution, which ensures that documents—such as invoices and purchase orders—and their related tasks are always shared with the right person and stored all in one place, supporting each step of the work cycle.

Unlock a unique end-to-end digitised system at the office: from creating e-documents to processing completed forms, and exporting data to Kintone's central databases for enhanced records management and analytics. This way, you can be sure to align your data and communications for more efficient collaboration.
95%
of employees agree or strongly agree that software makes them more productive at work. (G2 2019 State of Software Happiness Report)

What are the Solution benefits?
Digital data extraction lowers the risk of entering the wrong information, all while speeding up your processes.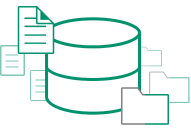 Reduce the time needed to organise your paper documents by storing data in a customisable, smart database.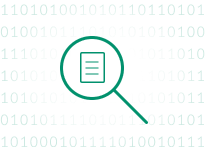 With a powerful search function, you can find information in an instant, enabling approvals and turnaround times to be done on time.
Improved Data Visualisation
Now that your data is online, you can see the bigger picture and create reports to monitor progress, and spot opportunities and trends as they unfold in real time.