Overview of Quality Assurance Activities
Overview of Quality Assurance Activities – Aiming to improve total quality over the entire product lifecycle –
To deliver high-quality products and services to customers, FUJIFILM Business Innovation adopts a method of "phase management" in which we perform reliable quality assurance from the customers' perspective by setting conditions that must be met for each phase of product delivery.
Meanwhile, in our quality management activities aimed at boosting the quality of business functions, FUJIFILM Business Innovation implements a Quality Settlement review each fiscal year to ascertain the statuses of items such as customer satisfaction and quality achievement levels, and incorporates the results in our quality assurance policy and quality goals for the following fiscal year.
By continuing these activities, we strive to boost the company's overall quality assurance level.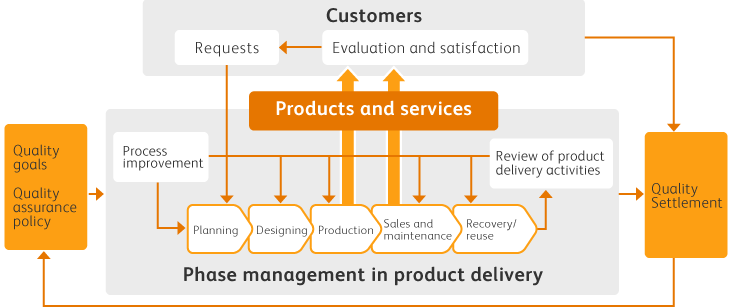 Organization-wide "Quality Management Actions"
To conform to the basic policies on quality assurance and achieve our goals, we conduct Quality Management Actions that focus on maintaining and bolstering the level of our quality assurance activities in an integrated manner. This activity is the base of our Quality Assurance Actions by Step for product provision activities.
There are six functions in our Quality Management Actions.
Quality Strategy/Plan: This function manages the policies for improving the quality of products and business functions, and also sets and disseminates the mid-ranged and annual quality targets.
Establishment and Management of Quality Assurance Organization: This function assigns a corporate officer to be in charge of quality assurance, organizes Quality Review Meetings, and establishes and manages organizations to promote quality assurance.
Quality Assurance Education: This function educates all employees about quality and improves employees' problem solving skills through special training targeting each field.
Quality System Standardization: This function prepares, maintains, and manages the common rules concerning quality assurance and the business standards suitable for each business or the product characteristics.
Quality Settlement: This function analyzes and evaluates the differences between the quality targets and the actual results, and clarifies the issues on quality assurance and the responses to them.
Quality System Audit: This function conducts activities to improve the quality assurance activities, monitors⁄audits whether the prevention measure and recurrence prevention activities are established and implemented, and performs auditing of systems when unexpected situations occur.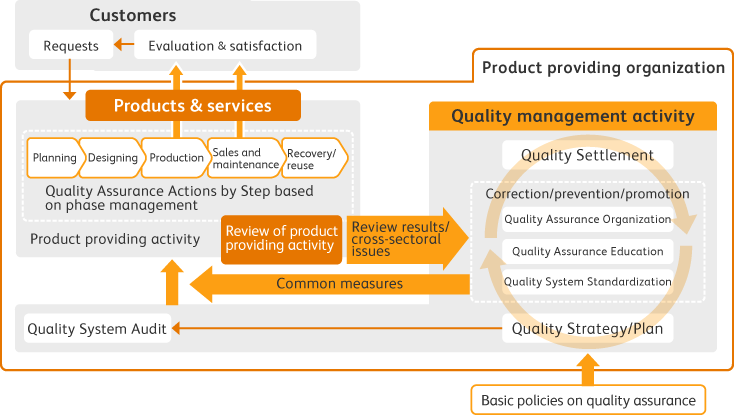 Quality Settlement System
The Quality Settlement System is a system that aims at boosting the total quality assurance level through the following activities conducted by FUJIFILM Business Innovation and our affiliated companies.
Identifying the differences between quality targets and the actual results
Clarifying the issues related to quality assurance and the person in charge of handling them
Reflecting the outcomes to the total quality assurance performance and the strategies for the next fiscal year to improve the quality of products and business functions