Printer Driver Installation Tool
To newly install or upgrade the printer driver for a multifunctional device or a printer (hereinafter called printer), please use the installation tool.
However, when adding new printer, if one of the following cases is applied, install the printer driver according to the procedure ofHow to Install Printer Driver Using "Addition of Printer".
Printing is performed via Windows Server®.
Printing is performed directly to SMB port of printer.
An alternate driver for Windows Server® is installed.
LPD (TCP/IP) port of printer is inactive.
UDP agent of printer is inactive.
1. Printer Driver Installation Tool Overview
The file downloaded from FUJIFILM Business Innovation official website is in self-extracting format.
Moved to a blank folder and executed, the file is extracted and the installation tool starts automatically.
After the printer driver installation tool starts, the menu screen below appears.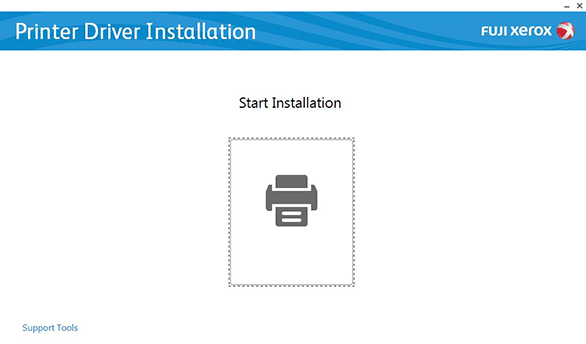 Fig. 1: Menu Screen
Printer Driver Install
USB-connected printer, network-connected printer and Windows Server® shared printer can be designated manually for installation.
If a printer is connected to the network, the following operations required for printer driver installation can be done automatically
Search of network-connected printer
Automatic recognition of printer option settings (such as number of paper trays and availability of finisher)
Printer Driver Upgrade
The existing printer driver can be upgraded to the latest version.
2. Cautions and Limitations
If the name of folder in which the driver installation tool (Launcher.exe) is stored is too long, the menu of driver installation tool may not come up on the screen.
(Note) In the case where the tool does not start, shorten the folder name or extract the file on desktop again.
Ex.) When decompressing "Driver Installation Tool" on C:¥temp,
execute C:¥temp:¥<Downloaded File Name>:¥Launcher.exe.
3. How to Install Printer Driver Using "Addition of Printer"
Double-click and decompress the file downloaded (EXE format).
The driver installation tool screen automatically appears. Click the [X] button and close the tool.
Confirm the folder in which the diver is stored.

Ex.) In the step 1, if the specified destination folder for decompression is C:¥temp,

Start the [Addition of Printer] wizard.
Specify the driver storage folder confirmed in the step 3 above in the input field of [Manufacturer's file to be copied]. (If the driver stored in the step 3 was copied to another folder, specify the copy destination folder.)
(Note 1)

<Downloaded File Name>
Name of the downloaded file in EXE format which has been compressed except the extension (.exe)

(Note 2)

Type of Driver and Folder Name
| Type of Driver | Folder Name |
| --- | --- |
| ART EX Printer Driver | ART_EX |
| ART EX Direct Fax Driver | ART_EX_Fax |
| PS Driver | PS |
| Common Printer Driver | Common_V4 |
(Note 3)

Type of OS and Folder Name
| Type of OS | Folder Name |
| --- | --- |
| x86 OS | i386 |
| x64 OS | amd64 |
| x86/x64 Common | i386_amd64 |