Overview
Kintone is a digital workplace platform which organizes your business data and processes in one centralized place, featuring a series of apps which are easy to learn and quick to deploy without any coding skills. It gives you the power to automate and run your business efficiently.
Do any of the following scenarios occur during your workday?
Existing systems are unable to meet the increased demand from end users.
In general, systems are complex and hard to adopt. End users find them difficult to comprehend.
It is difficult to manage business data across multiple systems, and data is not synchronized.
Kintone allows you to manage and share your tasks and data with others.
The platform helps to manage whatever data is important to your team in one central place, whether it is a customer database, expense claim, job progress tracking or human resource information.
No more hunting through your inbox or chat messages for the information and files you need. Kintone enables you to communicate alongside your data so you can easily refer back to it later.
Kintone allows you to organize your processes and tasks into intuitive workflows. With automated reminders, approvals, and task handoffs, you can spend less time managing your work and more time focusing on what really matters.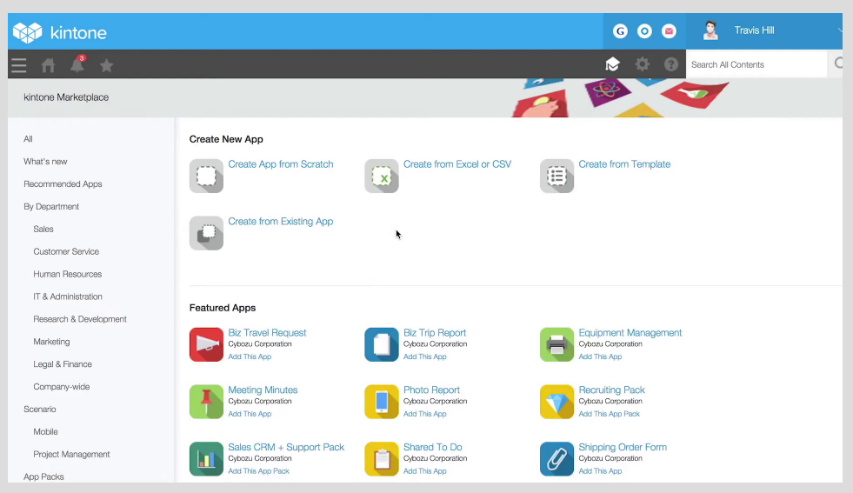 Features
Creating an app to manage data, tasks and business processes is easy.
There are over 100 app templates in the library, organized by department and industry. You can choose a template to start with, and either modify it or launch it as-is. Alternatively, you can import your Excel spreadsheet or CSV file into Kintone to create a new app from existing data you already have. When you become familiar with the platform, Kintone's no-code drag-and-drop interface allows you to create apps from scratch.
Use the different optional settings on each field type to set various conditions on how data can be entered into Kintone. You can create a required data field, set formulas or choose certain fields to auto-populate.
Set filters on your database to quickly view the data from different angles such as product type, order value, sales lead type, task due date, etc. If you want to easily see your filter later on, you can save it as a custom view with a click of a button.
Use permission settings to control a variety of actions, including who can create and edit apps, as well as who can view, input and edit data.
Never again use email for internal messaging.
When a task's status changes, you will receive a notification from three different ways - Kintone web portal, email or mobile app. You can set up custom automated reminders to alert you or others for upcoming deadlines and checking on your project's status.
Visualize the data stored in your apps in charts and graphs. Data is shown in real time, eliminating the need to recompile data every time you need for analysis and reporting.
You can build step-by-step workflows in your app to easily track tasks and projects around your data. Workflows are built like apps using Kintone's no-code drag-and-drop tool.
Use APIs or Webhooks to allow Kintone to exchange data with third-party services. These integrations expand the many ways you can use Kintone.
Industry Applications
Save time and money by automating routine sales tasks. Automate notifications, assignments, and process workflows, all without a single line of code. Take that data everywhere with Kintone's custom cloud CRM, easily accessible from any of your devices.
Featured Apps:
| | | |
| --- | --- | --- |
| Sales CRM Pack | Sales Leads Management | Quotes |
Improve response time and quality by facilitating information exchanges, communication, and access to your customer support cases. Easily keep track of ongoing tickets, prioritize, and distribute tasks among team members. Build a Kintone dashboard with configurable, real-time data sets and analytics for maximum insights.
Featured Apps:
| | | |
| --- | --- | --- |
| Customer Feedback Database | Sales CRM & Support Pack | Inquiry Management |
Exchange ideas in real time, instantly visualize and stay up-to-date with ongoing campaigns, and easily access past projects. Work effectively with all partners by moving from email to team-based communications.
Featured Apps:
| | | |
| --- | --- | --- |
| Logo / Image / Design | Event Calendar | Website Update Requests |
With Kintone, all your data and communications are in one place, so you spend less time switching back and forth across scattered spreadsheets, emails, and software tools. Security is also a top priority – only authorized people are able to view your data.
Featured Apps:
| | | |
| --- | --- | --- |
| Expense Report | Asset Management | To Do |
Whether you're recruiting new hires, managing employee timesheets, or balancing the budget, Kintone is the all-under-one-roof solution you need. Our customizable apps can handle everything, and if there isn't an app for that yet, you can build your own.
Featured Apps:
| | | |
| --- | --- | --- |
| Company Directory | Timesheet | Employee Training |
Real-time communications and an automated help desk will dramatically increase your ability to respond to IT issues. Sort and archive tickets, prioritize, and send instant notifications via a single, customizable platform.
Featured Apps:
| | | |
| --- | --- | --- |
| IT Help Desk | Equipment Management | Security Incident Management |
Brochure
Kintone - Admin
File Size:

1.15 MB

Document Type:

Portable Document Format
Download Resource
Kintone - Sales
File Size:

1.08 MB

Document Type:

Portable Document Format
Download Resource