TOP NEWS
Forbes Asia Featured Interview with President Makaya
FUJIFILM Business Innovation: Reborn to Create Global Value

"Customers can expect true technological innovation from the combined strengths of the Fujifilm Group."
— HISANORI MAKAYA, President & CEO
Hisanori Makaya, the new President and CEO of FUJIFILM Business Innovation, was featured in an interview with Forbes Asia (published July 2021). Makaya outlined his global growth strategies under the Fujifilm brand as well as his management philosophy.
Makaya believes the company's new name truly represents its mission. He joined Fuji Photo Film (now FUJIFILM Holdings) in the early 1980s, when films were predicted to eventually disappear. The story of Fujifilm became a case study for many, and Makaya was a witness to the amazing transformation which Fujifilm has undergone. "We never stop," said Makaya.
The interview is available in Japanese. For non-Japanese readers who are interested, you can read it with Google Translate
, or send us an email and we will be delighted to share the English copy with you.
---
INDUSTRY INSIGHTS
Immediate In-house Production with Quality and Speed
To put your brilliant thoughts to paper and share them to the world, you expect tools with high performance and fine quality.
The Fujifilm ApeosPro C810 series delivers — based on a next-generation hybrid platform, these high-performance multifunction printers serve a dual role in both production and office work.
Outstanding Office Work
The latest FUJIFILM Business Innovation technologies allows ApeosPro C810 series to print more items with outstanding quality, on a wider range of substrates. Its sensor adjusts the force applied to paper based on the detected thickness, and corrects paper misalignments at high speed. The equipped advanced office functions and high interoperability allow you to automate your daily workflows.
Fine-Quality Production
You can cover the entire print production process on the ApeosPro C810 series, from printing to post-processing, with consistent output quality and high registration accuracy. The series can deliver on all counts with outstanding results regardless of paper variety—from card stock to newsprint to embossed paper.
Think of all the business opportunities you can capture with these materials, and you certainly do not want to sacrifice:
Features of ApeosPro C810 series
Capability of professional colour
World's first* LED printhead with 2400 dpi high resolution.
Equips with print server for colour management to reproduce the original colour of products:

1200 x 1200 dpi high resolution RIP processing with 10-bit smooth graduation correction
Clear reproduction of small text, thin lines
Automatic photo correction adapted to photo scenes and the use purpose

Supports a wide range of paper weight and size for in-house on-demand printing

Up to 1300mm banner printing
Range from 52gsm to 350gsm paper
"Connected Office"
High Productivity - Up to 75 ppm high speed for heavy duty printing
Cloud Integration - Remote direct connectivity with multiple cloud services to enable linkage with business cloud services and empower smooth operations of hybrid workstyle
Security - Enriched security to comply with top industry encryption standards and to combat the entire information management lifecycle.
Post-processing Output - High end quality stapling and booklet creation for office documents for collateral.#
For applications requiring ultra-high image quality and high durability, we recommend the Apeos C8180 series.
# Optional
* Dry-type electrophotographic method. As of March 2021. According to our research.
---
BUSINESS INNOVATION
Smart Workstyle: Seamless, secure & agile operations achieved through digital transformation
Although the pandemic accelerated the pace of development of digital offices, many companies still struggle on the path to digital adoption, especially small to medium-sized enterprises (SMEs). As much as they wish to reap the benefits of digital transformation, company leaders are confronted with obvious challenges
. And, technology popularization among companies of all sizes is a vital step of the Hong Kong Smart City
development.
Workstyle beyond people or place
While it is relatively easy to build a smart workplace, training a smart workforce and fostering a smart workstyle are what's vital to establish a future-proof business. It goes further than using new hardware and software, as technology advances every day and is ever-evolving! Furthermore, the digitalization of an organisation has a profound impact on the daily work of employees and requires them to adapt to the new environment and change their work habits.
For any given enterprise, a Smart Workstyle is characterized by the business running as usual with the support of technology, regardless of any change in geographic location, variation in the environment, and move of personnel. To address the unique needs and culture of a specific business, several key aspects of building, executing and scaling a smarter workstyle should be considered...
(Extracted from recent article)
---
CORPORATE NEWS
Instant Help Live Chat – a new customer service platform for you!
There is now one more way to reach out to FUJIFILM BI as we have recently launched our Live Chat service!
You will notice on our website the green rectangle in the bottom-right corner of your screen. Tap it and enter the required information, and you can then enjoy the instant response Live Chat service! It works just as any messaging app you use for daily communication.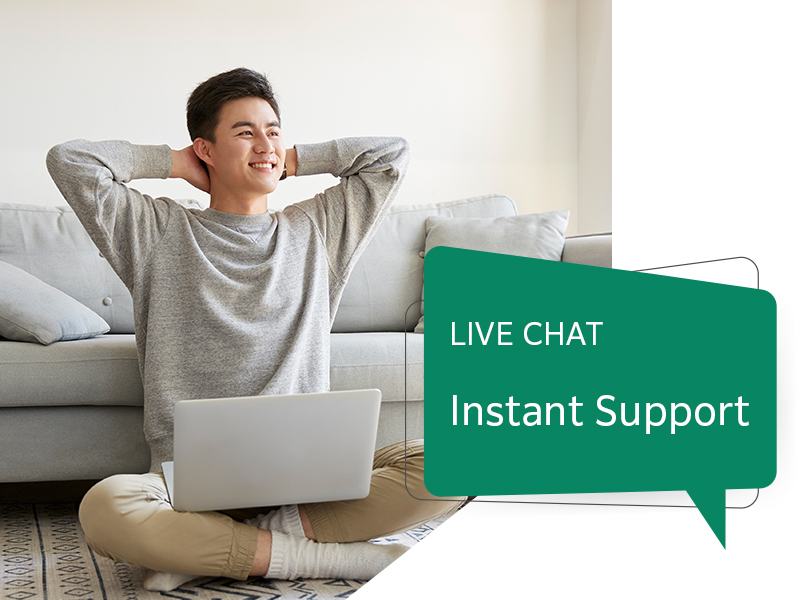 For anyone who is not convenient to call and talk, this is another option to contact us. Unlike other live chat services which may use robots or programmes to respond, our Live Chat service runs by real people of our service team to provide a real human service to our customers.
One of the most attractive features of this service is that you can capture the screen or copy and paste our response so that recording important information in your computer becomes very easy. It works on both desktop and mobile. You can even check a purchase order, billing or maintenance status through the chat. Try our Live Chat now!
Our volunteers supported "Make-A-Wish" Flag Day
Our FUJIFILM Business Innovation Hong Kong volunteer team supported the Make-A-Wish Hong Kong Flag Day 2021 on 10 July 2021. The team comprising of staff members and their friends and family contributed more than 120 volunteer hours. The raised funds will be used to create life-changing wishes for children aged between 3 and 17 with critical illnesses, encourage them to combat their illnesses bravely, and fill their life with love, power and happiness.
The time and love devoted by our volunteers not only helped raise funds but also to arouse public awareness of the importance of caring for those children beyond medical support, and bringing a positive impact to them and their families. We believe that every single effort from each volunteer helps create a collective impact to the community for the greater good of the beneficiaries.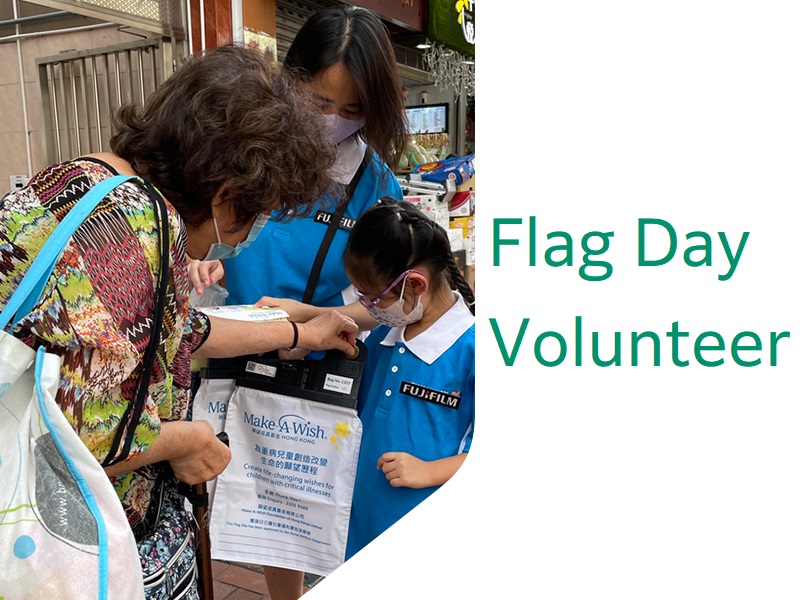 ###